To Showcase its Services and Facilities for Visitors Nusuk joins the World Travel Market in London, United Kingdom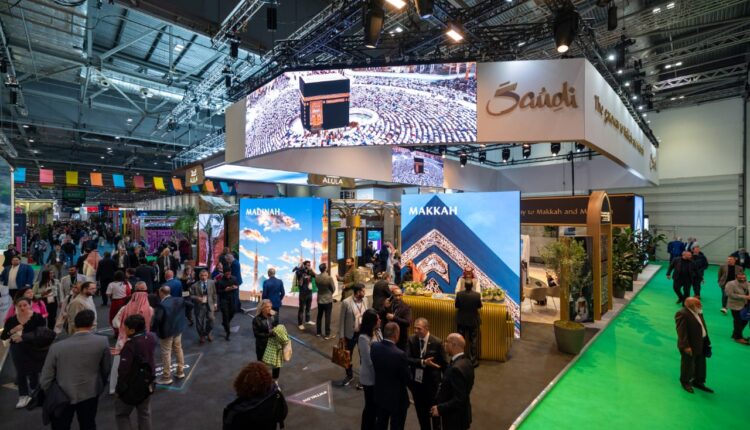 London, United Kingdom 9th November:
To showcase its services and facilities for visitors, "Nusuk" participated in the 43rd edition of the World Travel Market (WTM) exhibition in the British capital, London, from 6 to 8 November. The unified government platform "Nusuk" joined the Saudi Tourism Authority pavilion, the largest participating in the event. The main objective was to familiarise participants with the services offered by the platform to facilitate the performance of Umrah rituals for visitors coming to Makkah and Madinah from around the world. These efforts aim to enhance the guests' experience spiritually, culturally and as tourists, in line with the Saudi Vision 2030.
World Travel Market is the world's largest travel and tourism event. During the exhibition, the Saudi Tourism Authority's pavilion featured more than 75 partners representing major tourist destinations such as AlUla, Diriyah, AlSoudah and historic Jeddah, with the participation of various ministries and agencies. In addition, major international hotel chains, airlines, travel and tourism companies and tour operators, as well as partners of the "Nusuk" platform, were present at the exhibition.
Through its participation in the Saudi Tourism Authority's pavilion, "Nusuk" attracted prominent government tourism bodies, travel agency representatives and industry experts from various countries. They were introduced to a comprehensive introduction to the platform's distinctive services and unprecedented facilities for serving the guests of Rahman. Discussions were also held to explore opportunities for mutual collaboration with major regional and international companies and agencies operating within the sector.
Fahd Hamidaddin, CEO of the Saudi Tourism Authority and Managing Director of Nusuk, said: "Our presence at this year's World Travel Market has given us a fantastic platform to showcase our pioneering Nusuk digital platform to key global partners and raise its visibility on the worldwide stage."
The unique integrated platform has already been a huge success since launching last year offering pilgrims and visitors an easy-to-use planning gateway to Makkah and Madinah and booking services for a variety of cultural packages and programs beyond Umrah.
Mr. Hamidaddin added that participating in major international tourism exhibitions like the World Travel Market in London, which saw Saudi tourism's biggest-ever delegation, is playing a pivotal role in continuing to grow the Kingdom's thriving sector and enhancing its global and regional appeal as a unique tourist destination.
It's worth noting that citizens of 63 countries and residents of the GCC countries can now apply for a Saudi e-visa either upon arrival at one of the Kingdom's international ports or through the "Nusuk" platform. In addition, citizens and residents can use the same platform to book slots for Umrah pilgrimages and visits to the Prophet's Mosque. They can access other services and information to enrich and facilitate their journey to the Kingdom, including visiting other Saudi cities and staying in the Kingdom for up to 90 days within a year.